When Kathryn got married she gave us all matching pajamas to get ready in, in a color and theme that matched her wedding, of course. Just recently, a friend asked if we had any pajama suggestions and my first thought was "girl, do we ever!" Given the growing popularity of matching pajamas for weddings, bachelorette parties, and holidays (remember our Christmas family PJ obsession?) we thought we should share our finds with all of you, too.
Honestly, I used to think of Kohl's as one of those old-school department stores that your mom shops at. After being dragged into the store by Kathryn (who has a Kohl's credit card and thus is very committed to them) I discovered that there is magic to be found there, if you look in the right places. Kohl's is not only becoming more size inclusive, but is starting to incorporate more trendy plus-size items, like this pajama set. I love that it comes in a ton of colors, including white if you're celebrating a bride!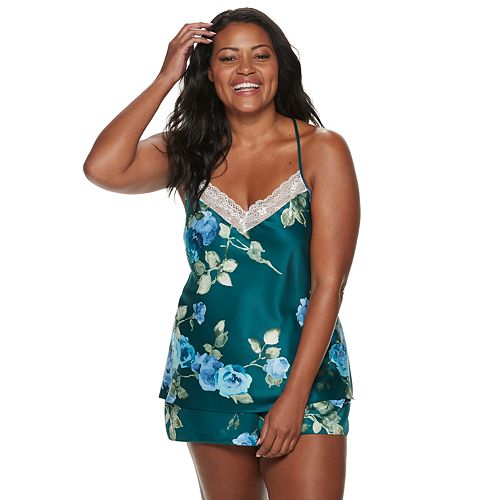 Etsy is great for all things personalized/custom including the pajamas Kathryn got for us! They can be ordered in standard sizing or you can have them custom made to your measurements if you find the right etsy shop. This style is great if you want something a little more modest, I ran all around the hotel and to the venue in these and didn't feel awkward or exposed at all. They also come in a cute little fabric pouch which mine are currently tucked into in my drawer, waiting for me to pull them out and wear them again once it's warm (unlike my bridesmaid's dress). If floral isn't your vibe, I am obsessed with this banana leaf print.
/ Kathryn: The Etsy shop where I ordered pajamas for my bridesmaids is awesome. They make pajamas, robes, bridal pajamas, rompers (including the really cute romper that is technically a pajamas that I wore to my rehearsal dinner), and more—in so many different colors in prints. The pajamas I ordered come in sizes S to 5X, and can be made with custom measurements, which came in handy! I was also able to mix and match my order: I got navy for my bridesmaids, pink for my mom, flower girl, and junior bridesmaid, and white for myself. They also gave me a discount when I ordered multiple sets! They asked for about 4-6 weeks lead time when I placed the order, but they arrived in a much quicker time frame than that! (Always follow the shop's recommended ordering timeline, though.) I can't recommend Silk and More enough! /
Asos is one of those brands I didn't expect to be very inclusive, but they carry a surprising range of sizes––including plus, petite, and tall. Kathryn is allergic to avocados, so I will never convince her to match me in this adorable set, but it would be perfect for a couple of avocado-toast-loving besties.
J. Crew's less expensive sibling has all the preppy vibes of the original, with a much lower price tag. I especially like shopping here because they don't usually separate their plus size and straight size options into different listings, making it much easier to find matching clothes in both of our sizes. This navy set is classic but if you want to mix it up there are other color combos.
As you probably know by now, we are avid Amazon shoppers, so of course they're going to make the list. This ruffle-trim tie dye set is so fun, and if rainbow isn't your thing it also comes in three other colorways. At just $17 this is going to keep your crew and your wallet happy, and that two-day shipping will save you if you've procrastinated on party planning. Brb, I need to convince Kat that we need these for a beach weekend.
We love Old Navy pajamas, and they are constantly adding new sets and taking away others, and most of the time you can find a matching set in their straight and plus size departments. They especially up their game around the holidays—which is when we invest in our matching pajama sets just about every year!
Are you going to rock any of these at your next slumber party? We'd love to see you and your crew dressed in your Sunday-morning best, so send us a photo!
FTC: This post contains affiliate links. Whenever you purchase something from one of these links, we at Tailor of 2 Cities earn a small commission at no additional cost to you. We only post items that we love or want ourselves. When you purchase from these links, you're helping to keep our little blog going and we appreciate your support!